This image carousel displays one slide at a time, and hides non-visible slides from screen reader users. Use the next and previous buttons to see all of the slides.
Porto is a Michelin-starred love letter to the fishing villages and farmsteads along the Atlantic Coast of Portugal and Spain's Galicia.
Porto showcases wild-caught imported seafood, gourmet tinned seafood and exclusive wines from this delicious corner of the world. From inside our artfully appointed dining rooms guests can enjoy a chefs tasting or decadently combine it with seasonal expressions from our a la carte menu. No matter where you sit, the intoxicating aromas from the wood-burning ovens and grills will heighten the culinary journey.
Fresh, wild caught fish imported weekly travels to Porto's wood-burning ovens and grills where Executive Chef Marcos Campos, Culinary Director Erwin Mallet and Executive Pastry Chef Shannah Primiano take center stage at our expansive chef's island and chef's counter.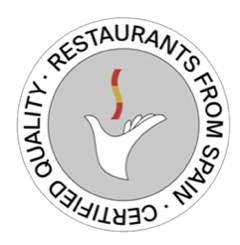 Open-flame cooking, the most primitive of all culinary techniques, was specifically chosen for its ability to impart a sublime range of flavors, trigger nostalgia and tap into smoke-scented memories. As on land, seasonality and sustainability plays an important factor in the sea, limiting the availability of many items to a two- to three-month season. Curing and smoking, with a light hand, are techniques used to ensure that the fresh fish Porto imports can be enjoyed later into the year despite fishing seasons coming to a close. The wood-burning oven stays busy even while the restaurant is closed, its embers slowly turning fish bones into a rich stock or helping to enrich the flavors of an over-night stew. Leftover herbs get a second life as various infusions used in Porto's cocktails.