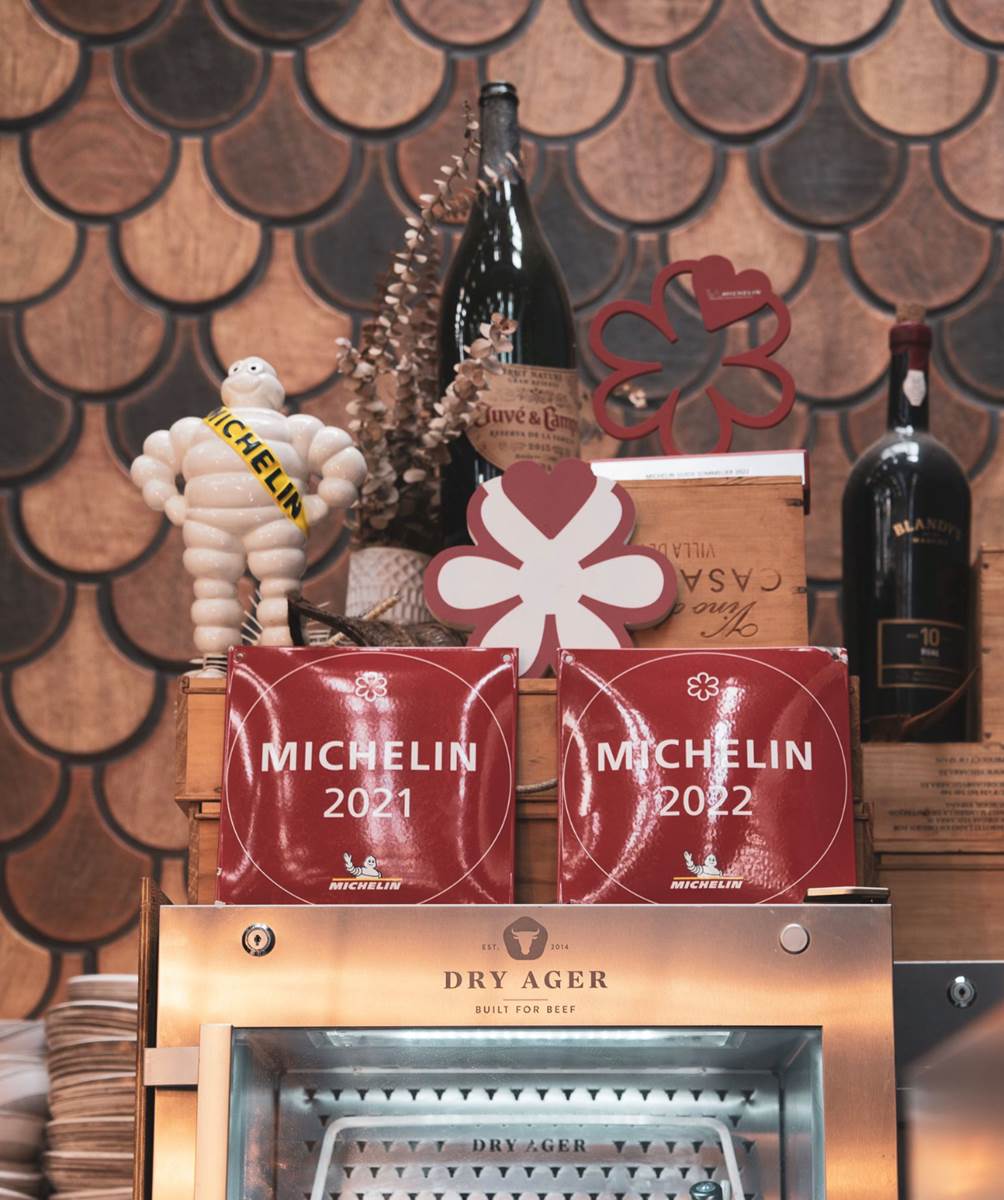 A Michelin-starred love letter to the fishing villages and farmsteads along the Atlantic Coast of Portugal and Spain's Galicia, Porto showcases wild-caught imported seafood, gourmet tinned seafood and exclusive wines from this delicious corner of the world. A seasonal tasting menu and unique a la carte items can be experienced at the Chef's Island or in the Atrium. No matter where guests sit, the intoxicating aromas from the wood-burning ovens and grills will heighten the culinary journey.
The envelope-pushing creativity of Executive Chef Marcos Campos, Chef de Cuisine Erwin Mallet and Executive Pastry Chef Shannah Primiano takes center stage at Porto's expansive chef's island and chef's counter found at the center of both of our artfully appointed dining rooms.
This unique layout eliminates the wall that normally exists between those who make food and those who consume it. Thus, Campos and his chef team can act as guides, presenting each dish directly to diners while explaining the inspiration behind it. These candid conversations between chef and guest might include stories from discovery and research trips to Spain and Portugal taken by the Porto team.
The Spanish and Portuguese have perfected the art of conservas, a centuries-old preservation technique that captures the essence of the sea in a can. These tinned fish and shellfish are treasure chests full of seafood flavor, oftentimes an expression more exquisite than that of their "catch of the day" versions. At Porto, guests can feast on sustainably harvested berberechos, navajas, sardinillas, buttery bonito del norte belly, almejas, zamburiñas and more. Porto boasts one of the largest rotating selections of Galician and Portuguese conservas in the United States, working each month with the area's finest 'conserveiras' to ensure that the tinned results of the very best catches and harvests find their way to our shelves in Chicago.
Traditionally eaten directly out of their tins with little fanfare, Campos has opted instead to present these pristine products in groundbreaking ways, while still highlighting their unique and delicate flavors. "We want to do something that's very different not only for Chicago but for that part of the world, too," says Campos, a native of Valencia, Spain.
Fresh, wild caught fish imported weekly travels to Porto's wood-burning ovens and grills located in two open kitchens for all to see. Open-flame cooking, the most primitive of all culinary techniques, was specifically chosen for its ability to impart a sublime range of flavors, trigger nostalgia and tap into smoke-scented memories.
As on land, seasonality and sustainability plays an important factor in the sea, limiting the availability of many items to a two- to three-month season. Curing and smoking, with a light hand, are techniques used to ensure that the fresh fish Porto imports can be enjoyed later into the year despite fishing seasons coming to a close.
The wood-burning oven stays busy even while the restaurant is closed, its embers slowly turning fish bones into a rich stock or helping to enrich the flavors of an over-night stew. Leftover herbs get a second life as various infusions used in Porto's cocktails.
Fresh, imported seaweed, an superb ingredient rarely found outside of Michelin-starred restaurants along the Atlantic Coast of Spain plays an important role at Porto, where Campos incorporates the unique sea vegetable in more substantial and innovative ways.
Following Campos' lead, the desserts from Executive Pastry Chef Shannah Primiano find inspiration in classic Spanish and Portuguese sweet dishes before channeling more contemporary methods and intriguing ingredient pairings. In her hands, Porto's desserts find the perfect balance between nostalgia, sweet, savory and adventurous.